At Crafter's Edge we are committed to the power of creativity, the boundless benefits of handmade crafts and ensuring that our products provide value, quality results and everlasting dreams.
FAB DIES
Fab Dies cut up to 6 layers of fabric at one time and are easy to use, safe to handle, and don't dull over time. Made from High Grade U.S. Steel, these dies are lightweight and strong. Fab Dies can cut many different materials like cork, wool, leather, thin metals and more. Because you have full control over each separate die shape, Fab Dies are perfect for fussy cutting, saving fabric, and using odd shaped scraps. It's easy as 1, 2, 3. Place, roll, and reveal perfect cuts every time.

REDUCE WASTE

Use maximum amount of material and no overcutting shapes.

DETAILED CUTS

Cut the impossible and amazing details with ease.

MAXIMUM VALUE

Dies Sets give you a wide range of shapes and sizes.

SAFE TO HANDLE

No sharp edges or cutting blades. Lightweight and easy to handle and store.
BUT WAIT, THERE'S MORE!
Fab Dies don't require you to cut with the bias of your fabric.
Unlike Steel Rule Dies you don't have to worry about clipping any strings or cleaning you dies of fabric particles.
Fab Dies make it possible to get perfect cuts of thick fabrics like wool and felt.
Fab Dies are a better value than steel rule dies. Fab Die Sets come with multiple pieces or nested shapes.
Fab Dies are open in the center so its easy to fussy cut patterns and designs from your material.
CROSSOVER II
The Crossover II is a powerful and dependable machine that is a great addition to any sewing or craft room. You can tackle all kinds of projects large and small using all
What makes this die cutting machine different?
Adjustable rollers allow you to adjust the cutting pressure depending on the thickness of the fabric.
The adjustable rollers also make it possible to die cut using other types of dies, including steel rule dies and paper cutting dies.
Fold up cutting platforms double as carrying handles for easy transport and fold up for easy storage.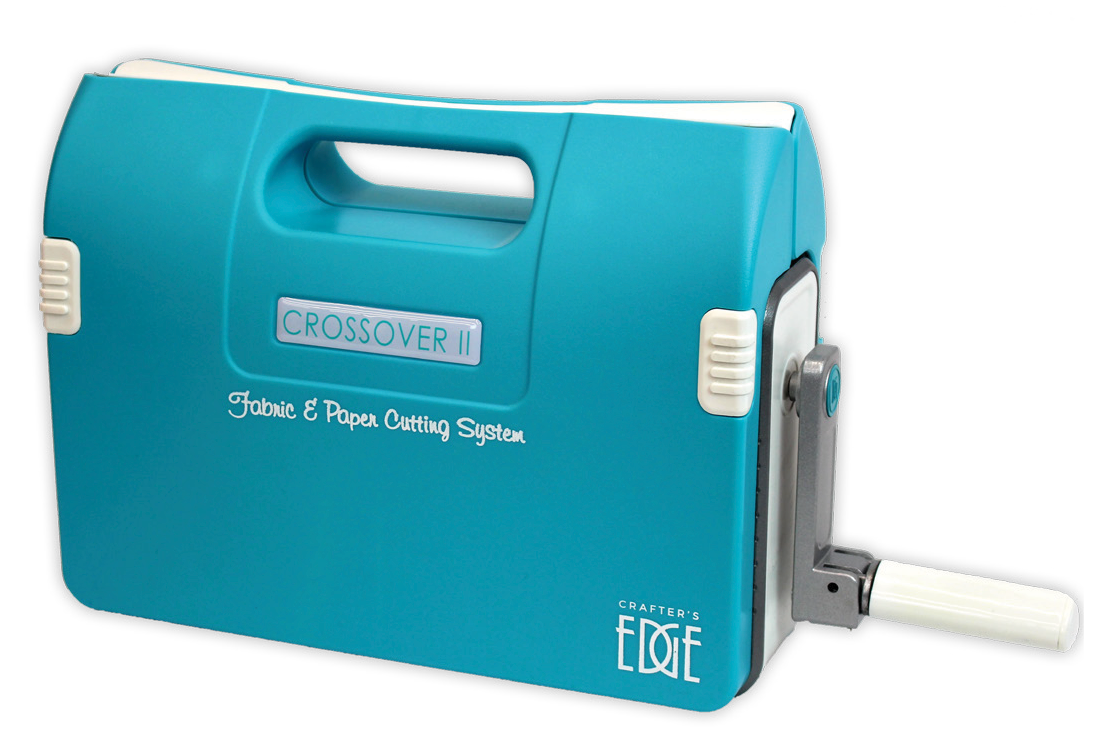 HOW DOES IT WORK?
Using Crafter's Edge Fab Dies is easy. All you need is your favorite Fab Die, Crossover II die cutting machine, and the material you want to cut.
Select your fab die and your fabric. Fold fabric to get multiple layers or cut fabric to fit within the active cutting area.
Place your Metal Adapter Plate on the White Base Plate.
Place fabric on metal plate, then place die with cutting edge down toward the metal plate and fabric.
Cover sandwich with clear top plate.
Run your sandwich through the die cutting machine. Adjust roller pressure before moving the plates through the machine. Less fabric thickness the smaller the pressure needs to be.
Remember:
always run test cut to determine optimum pressure for material type and number of layers.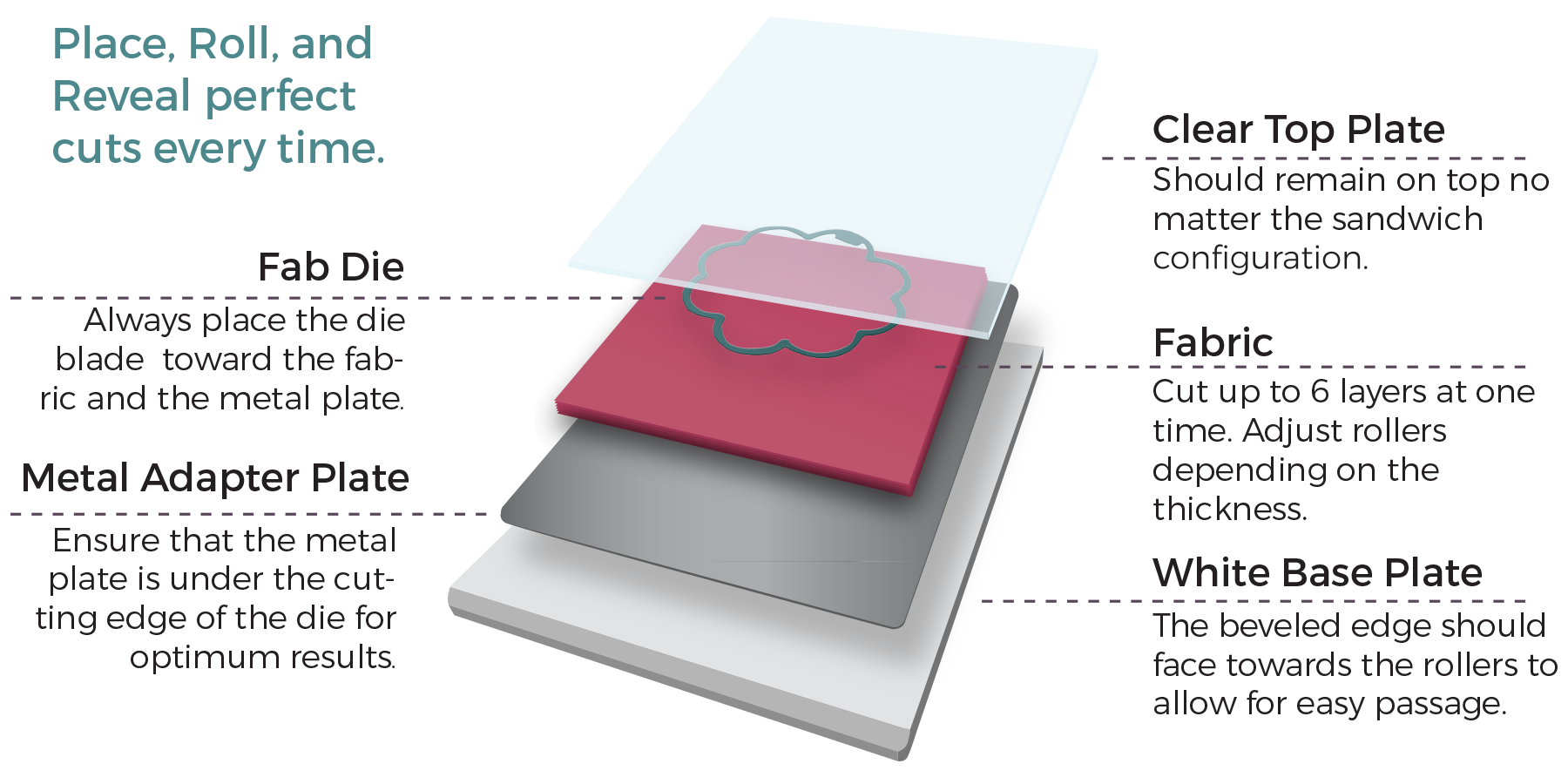 USING FAB DIES WITH OTHER MACHINES
Already have a die cutting machine? Don't worry! Crafter's Edge offers machine adaptor plates that allow you to use Fab Dies with your favorite die cutting machine.
AccuQuilt® and AccuQuilt GO!® are registered trademarks of TEK Industries Inc. Corporation, Nebraska.
Sizzix® is a registered trademark of Ellison Educational Equipment, INC. CORPORATION, Califormia
Big Shot™ is a trademark of Ellison Educational Equipment, INC. CORPORATION, Califormia
Sizzix® is a registered trademark of Ellison Educational Equipment, INC. CORPORATION, Califormia
Big Shot Plus™ is a trademark of Ellison Educational Equipment, INC. CORPORATION, Califormia
USING CROSSOVER II WITH OTHER DIES
The Crossover II Fabric and Paper Cutting System makes it easy to use many types of die. You can use most steel rule dies and standard paper cutting dies in the Crossover II die machine. Adjust the pressure of the rollers of the machine so for each die. Make sure that you run a test cut before you start a project so you are comfortable with the settings and fabric layers.